Venture Trends Newsletter, Issue #8
In this week's free issue there are some amazing things to highlight.
How #coronavirus will impact VC and Angel Funding
Virtual Meetings – how to run a great virtual organization
How to Work from Home
Venture is like Bridge, not Poker.
The investor pitch – what does a VC want?
Paul Graham on Jack Dorsey & Twitter
The $189 billion Gender Gap in Startup Funding
Debt is good if you don't spend it.
This newsletter gathers together this week's most interesting content related to the Venture capital ecosystem. I read every day and this is curated from my weekly reading. I help startups tell their story at https://archimedes.studio
I email the newsletter on Saturday, Pacific time, each week. There is little or no commentary included, it is the things I found compelling or interesting.
There is a free version, and a paid version that includes access to content for paying subscribers only. If you are not a subscriber and you want this in your email every Saturday click here.

I accept payment in crypto currencies also. If you pay in crypto please email keith+venturetrends@teare.com so I can provision your subscription.
This week's paid version is here – Venture Trends for Paid Subscribers
Stories in the paid version this week:
How to get US and UK VCs to invest in overseas startups
How to be an angel investor
How to raise a VC Fund
How to make people care about you and your story
Case Study: Passed up by 27 VCs and now worth $3 billion
The Math that Drives Venture Returns
Why Passion is not enough
How to think about Churn, Growth and ARR
People need to focus on profitable growth: Veteran Valley investor
People need to focus on profitable growth: Veteran Valley investor, Former Twitter CEO Dick Costolo, former Twitter COO Adam Bain and Sequoia Capital's Roelof Botha join 'Fast Money Halftime Report' to discuss investing in Silicon Valley and Twitter CEO Jack Dorsey's tenure. READ MORE
Venture firm Sequoia is sounding the alarm about the economy again as coronavirus spreads
The firm advised companies to ask key questions as COVID-19 keeps playing out, including whether they need to cut back on head count and be more thrifty with marketing expenditures.In particular, it outlines questions like "Where could you trim expenses without fundamentally hurting the business?" and suggests taking a close look at head count and customer acquisition costs.
100+ Crunchbase News
Virtual conference platform Hopin is the latest to join the roster of businesses benefiting from increased demand for services that facilitate working and networking remotely.People want to go to conferences to meet others, not just to watch presentations, Boufarhat said.
What It Takes to Run a Great Virtual Meeting
Minimize presentation length, use an icebreaker to get everyone talking, assign a facilitator, call on participants, and capture real-time feedback via polling systems to make sure all voices are heard.Virtual meetings — even impromptu one's sparked by fears of a contagion — can be run more effectively, using basic meeting best practices and easy-to-use, inexpensive technology.
How to Work from Home Without Losing your Mind
Companies like Twitter and Square—which share Jack Dorsey as CEO—have now taken the next logical step of asking employees to work from home whenever possible, and more could potentially follow their lead.(In this metaphor your brain is a horse, go with it.) More important, though, if you don't get up, take a shower, brush your teeth, get dressed—whatever your morning routine entails when you actually do go into the office—you're breaking the cardinal rule of working from home: Set boundaries.
When you pitch an investor, you should understand their motivations and incentives just like when you sell a potential customer.
How to Keep Your Best People When Evolving From Start-Up to Scale-Up
In his most recent book Start-up, Scale-up, Screw-Up, Jurgen Appelo describes the different stages that he distinguishes within the Business lifecycle of a product or service within an organization*.Formation: Begin building the product and get structure in place; you start to become fully committed to the new business.
VCs should play bridge
This 20 million price, by current convention, means we believe this hand will play out as another X million in GMV run rate", or whatever it is your signalling for this new round of bidding.But your signal communicates something different, that's understood by convention among the other players- "By signing this term sheet, we anticipate this company will grow into a 1.5M ARR business by next term sheet" or the like.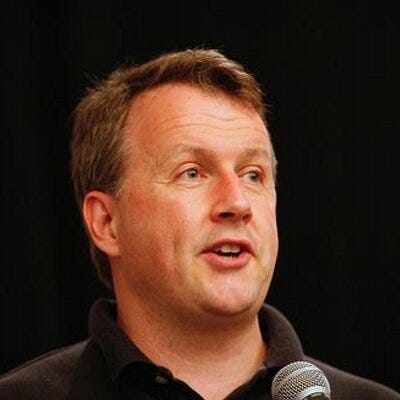 Twitter is not the sort of cash cow a private equity firm could buy and install some talking head MBA to run. There are still features to be developed. The job of CEO requires product vision.
300+ @paulg Tweets
The hedge fund that wants to get rid of Jack Dorsey as CEO of Twitter should look at the data about what happens to tech companies when their founders are replaced by the sort of people hedge funds choose to run companies.
500+ @paulg Tweets
A Decade-Long Scorecard for Women Raising Venture Capital Shows Progress, But Is It Enough? – Inc.
24 Inc.
The takeaway: On a percentage basis, all-female teams remain stuck, raising just two to three percent of the total venture capital in eight of the past ten years.During the same timeframe, mixed-gender teams increased their share of venture funding, from 6 percent to 9 percent.
There's Still A $189 Billion Gender Gap In Startup Funding—But Efforts To Move The Needle Are Stronger Than Ever – Forbes
100+ Forbes
Female-owned businesses are having a breakthrough: A historic 21 women-led companies, including Guild Education, Rent The Runway and Tala , were unicorns in 2019, earning valuations of $1 billion or more—the highest-ever in a one-year period, and businesses founded by women are delivering higher revenue than male-founded businesses.It's partnering with the Swiss investment banking company UBS to launch a Project Entrepreneur initiative: a series of summits centered on access to capital for early and growth stage female founders and a curriculum aimed at educating early-stage entrepreneurs about seeking the right investors.
Debt: Raise It. Just Don't Spend It.
4 SaaStr
But we also quietly raised a few million in venture debt, which let me made more hires and keep the engines running without having to raise another round.But they also quietly raised eight figures in venture debt to skip a round.
Private equity firms raised more money in 2019 than any other previous year
"Globally, PE firms raised more money than they have in any prior year, closing on nearly half a trillion dollars with LPs plowing both freshly allocated capital and reinvested distributions into the strategy," says the report.Private debt fundraising rebounded in 2019, notching the second-highest amount of capital raised annually in the strategy's history, says the report.
Help and services to drive startups to $10M ARR
200+ TechCrunch
Shasta Ventures , a venture capital firm that has raised more than a half-dozen funds in its life, announced a new program this morning designed to help its portfolio companies scale to $10 million of annual recurring revenue (ARR) from $1 million ARR or less.Shasta wants to provide a more structured set of learnings for its portfolio companies to help them reach eight-figure ARR, boosting life expectancy for the startup and the chance of cash-on-cash returns for its LPs.
Perfection is the Enemy of Productivity
Perfectionists can also develop heuristics, such as "if I have thought about this choice three times, I will make a call and get on with it," picking areas in which to overdeliver and areas in which meeting expectations is okay, and reviewing commitments to make sure they are still of use.Perfectionists also sometimes imagine there will be catastrophic consequences if they fail to overdeliver; for example, they worry a client won't want to work with them if they take a day to answer an email request, even if it's a non-urgent query and they're happy with everything else.
Why founders need to stop handing over so much equity
10 Sifted
Like many other venture capital investors, we want the company (essentially the founders plus team) to still own at least 50-60% of the business when we come to invest."The road to a large outcome can be long (and dilutive), so reducing the skin in the game early reduces incentivisation," says Irina Haivas, partner at European venture capital firm Atomico.
Draper declares "golden age" for Eastern European tech – Sifted
100+ Sifted
Partnering with OTB will give Draper a window into the Central and Eastern Europe (CEE) region where Marcin Hejka, managing partner and cofounder of OTB Ventures, estimates that there are some 100,000 startups that have raised first funding rounds in the last five years and are now reaching the stage of maturity where they can go global."We are about to see the golden age of Eastern Europe," says Tim Draper, the billionaire Silicon Valley venture capitalist, who is today announcing the addition of Polish venture capital firm OTB Ventures to his Draper Venture Network.
Beneath all the reporting on fatally flawed airplane design, serial ten-figure operating losses from big name startups, and Russian-linked presidential election information hackings, there lies an organizational leadership truth from the debacles at Boeing, WeWork, and Facebook: Be wary of giving the CEO job and the board chair job to one person.
The Future of Work is Automated
Two of the biggest components of the technology side, at least from my perspective, of the Future of Work are artificial intelligence and RPA.Sean Chou: I'm the CEO and co-founder of Catalytic, a leader in cloud-based automation.
The Unique Challenges To Scaling Fintechs In Emerging Markets – Forbes
40 Forbes
Three narratives stood out: emerging market fintech entrepreneurs create inclusive offerings, build multi-faceted solutions, and leverage partners to scale.A recent survey from MIX reinforced my thinking on some of the unique customer and infrastructure challenges that fintechs in emerging markets face.
Big Corporations Are Rushing Into Venture Capital. That May Not Be a Good Thing. – Barron's
22 Barron's
Start-ups are stoking the flames by developing new technologies and products that are reinventing entire industries, and corporate capital is adding fuel to the market."If you look at our portfolio, there's a lot of weird stuff and that's OK," says Adler, who worked as a rocket engineer and launched his own start-ups before joining Toyota AI Ventures.
How Venture Capital Became Intel's Answer to 'Massive Disruption'
8 Barron's
Flanagan, a senior managing director at Intel Capital, says the unit led 75% of the deals it invested in last year, and Intel Capital often takes board seats.While Intel invests side-by-side with traditional venture-capital firms, its preferred position as a lead investor also puts the company in competition with Silicon Valley's top venture firms when it comes to deal flow.